Operation: Time and Space in a Cup.
If you're a David's Tea fan, then you're probably familiar with their blend Glitter and Gold. I've only had Glitter and Gold once, so I really don't remember its taste all that much (I'll have to try it again sometime). But one thing is certain; it's a very pretty tea. As David's Tea describes, it's "like a gorgeous starry night" and I thought, wouldn't it be great if I could make all my teas look this awesome? I looked up the ingredients for Glitter and Gold and it'spretty much black tea with gold sugar balls for sparkles. So all I'd have to do is to find some gold sugar balls and put it in a tea I liked. But what tea should I try it out with?
…
TARDIS!  
What better tea to infuse with gold glitter to make look like it a beautiful night sky? And so started 'Operation: Time and Space in a Cup.'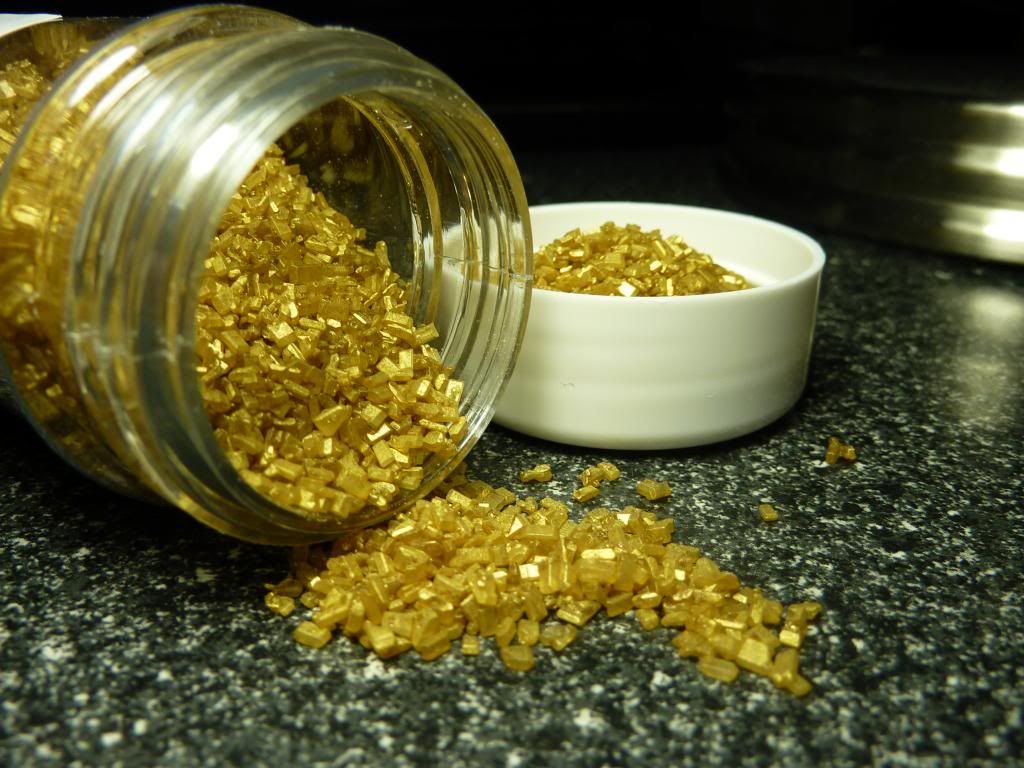 The first step was to find gold sugar balls/any kind of gold sprinkles. This was a little harder than I thought as the grocery stores I went to only had the typical rainbow coloured ones. Then I remembered that Michael's (a craft store) sold baking/cake decorating items. I went today to see what they had, and sure enough they had a selection of edible gold accents. I ended up buying two kinds: the Wilton Edible Accents Gold Hearts, and the Wilton Sprinkles Gold Pearlized Sugar, as I didn't really know how either would look when dissolved in hot water.
Next step was to see if it would actually dissolve in my tea and end up looking like Glitter and Gold. I put TARDIS in my steeper like I always do and sprinkled some gold hearts on top as I waited for my water to heat up.
Boiling water and three minutes later and everything went according to plan. Little flecks of gold floated around in my tea. :D  It's subtle, but they're definitely there.
I wanted more sparkle (because that's just the kind of person I am), so I decided to add some of the gold sprinkles in.
And the results are fantastic! Because of all the stirring, the glitter went in round and round in circles, making it look like a swirling galaxy, or one of those time lapse pictures of the stars.  Very spacey-wacey.
The glitter will start to settle at the bottom of your cup sooner or later, and when that happens, just stir it a little. You end up with streams of glitter flying to the top of your tea, and it makes me think of the bursts of regeneration energy from the Doctor. I really didn't need more reasons to love TARDIS, because I already do so so so so much, but this really brings my love to a whole other level. If this were my fandom blog, this whole post would be keyboard smashing and ridiculous fangirling.Oh what the hell: DIOFJSODIJFOSDIJTHISISSOGREATEVERYONESHOULDGOANDDOTHIS. IT'S DOCTOR WHO AND TEA AND SPARKLES. AHHHHHHHHHHH. I CAN'TTT//ASOHOASUFENLSADNRJNMFSCS
Notes
tea-stories-of-adagio reblogged this from ohmydarjeeling and added:

A cool way to make any tea more aesthetically pleasing! What about other colors? :D